Download a Sample Tip Sheet
Download a Sample Tip Sheet
Download a Sample Tip Sheet
Welcome to WorkExcel.com!
We're happy you're here!
1
Download your first free tool below.
More are on the way.

But, before proceeding, an introduction...

WorkExcel.com is for human resource professionals, employee assistance professionals, CEOs and Business Managers, Training and Organizational Development Pros, Mental Health Professionals, Corporate Wellness Professionals, Drug and Alcohol Counselors, Safety, Risk Management, and other professionals concerned with employee well-being, reducing behavioral risk at work, and helping employees be healthy, happy, and productive.

We produce brand-able, editable, reproducible, professionally narrated, and customize-able resources to help you to do your job better. Our mission is to help you reach more employees more efficiently to save lives--and get health and wellness materials to loved ones, as well.

Our mission is do this while helping you reduce costs, owning the products you purchase, paying no leasing or per user fees, and enjoying the use of the products you purchase without links to third parties, off-page vendors with hyperlinks on your stuff, or having distracting messages that market to employees or corporate customers.
---
[Download ZIP Full Kit]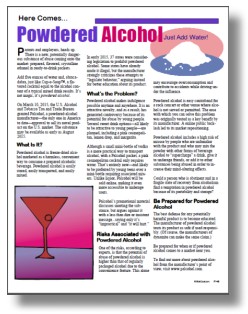 [PDF ONLY, No MS Publisher or Word Doc]

Free Wellness Tip Sheet Package

Title: Here Comes Powdered Alcohol
Free Download -- Click the link or image to download the latest free editable tip sheet and corporate wellness handout from WorkExcel.com in three formats (MS Word, MS Publisher, PDF).
You may also obtain just the PDF if you can't download the module. Email us at publisher@workexcel.com
Note: When you see the PDF, choose "file", then "save as" to transfer to your computer.
This tip sheet may be used, edited, or your logo added to it. Please retain copyright mark. If placed on a website, please consider having your web technician create a link to: http://workexcel.com
Look for announcements about more free downloadable workplace wellness tip sheets on topics. We will announce the newest tip sheets in our hard copy paper newsletter.
WorkExcel.com E-Newsletter We send news on hot workplace topics and issues affecting your job, employees, and supervisors--you will know about critical issues before anyone else because we have access to news-feeds and embargoed press releases that you will never know about unless you are scanning hundreds of newspapers, journals, university research reports, and more!
You are now on our free tip sheets distribution list. You can unsubscribe anytime by clicking on the unsubscribe button at the bottom of any email we send. The download on this page also includes our catalog--we will be updating it soon. Don't worry, we will let you know when new items arrive!

DOWNLOAD THE .ZIP OF THE TIP SHEET ABOVE IN MS PUBLISHER, MS WORD WITH GRAPHICS, AND A PDF:
Would you like to own our entire library of reproducible editable workplace wellness tip sheets--about 150 topics--and save over $800 over their individual cost? You will see the order form in the download.

Are you an Army installation or other secure government or organization that blocks zips? No problem. You can either use your personal email or click here to obtain only the PDF.